Here's a lifehack that is about to blow your mind… All you need to make some ~very fancy~ ooey gooey chocolatey truffles is: chocolate chips, cream (non-dairy or dairy, depending on your dietary needs) and some cocoa powder.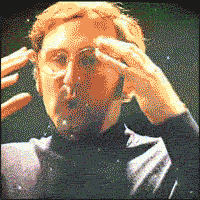 Heh… Anyway, just gonna keep this one short n' sweet. Hope you enjoy these yummy truffles!
– Heather
---
Easy Chocolate Truffles
Ingredients:
2/3 cup full-fat coconut milk
2 cups Enjoy Life dark chocolate morsels (or other non-dairy chocolate chips)
1/2 cup cocoa powder for coating (or sub whatever you want – coconut flakes, nuts, etc.)
Directions:
1. In a small saucepan, bring coconut milk to a boil, stirring often. Once it reaches a boil, pour over chocolate chips and allow to set for about 2 minutes, or until chocolate has melted.
2. Gently stir the mixture, careful not to create air bubbles. Mixture will be thick, smooth, and look kinda like chocolate pudding. Cover mixture and chill in the fridge for ~2hrs. PRO TIP: If you stop now, you've got a lovely vegan & paleo chocolate ganache.
3. Scoop about 1 tablespoon worth of chocolate and roll into a ball with your hands. Coat with cocoa (or whatever else you want on the outside like coconut flakes, nuts, etc.) and set on a plate. Repeat til you've used up all the chocolate. You should be able to get 2-dozen smaller truffles or 1-dozen bigger truffles.
4. Store truffles covered in the fridge and proceed to lick all the chocolate off the bowl, your hands, your spoon, etc. Enjoy!